what is this punk rock
artist statement
While playing the RAMONES on my old (gen2) iPod my friend Leilani said "you like the RAMONES?" I said yes and that they even played here at the college - her look of disbelief was enough to make me know I needed to show her proof - sporadically over the years, 36 years to be exact, I had pulled out the folded over manila envelope that contained the 3½" x 5" original prints and showed them off to my friends even encouraging them to take one or two if they liked. When I showed them to Leilani she was amazed, posting one of the photos to Instagram saying - "I know a Legend."
HA - legend my ass, I'm just another photographer that doesn't show his work enough - Leilani offered up that she'd like to be a curator someday, OK, you want to curate a RAMONES show? The rest you might say is history.
I remember shooting the show, wanting to do a good job for my friend Betsy that had asked me to take photos, and that I wanted to "document" it -photojournalist style. To me, the crowd reaction is almost as important as the performance of the band, and you can see I've included the crowd in several of the images. I like the fact that in a few, someone in the crowd is looking at me and for a split second not looking at the RAMONES.
The large images are my curator's idea, the "noise" you see is actually the grain of the film showing off it's Pointillism as artistically as any painter of that era might have. Film in all its glory, my first reaction was to correct it in Photoshop, how sad. Thanks to my colleague Russell P. for the reality check.
So - revel in the grain, in the era of no cell phones, internet or any of those other necessities / distractions we can't live without nowadays.
Bask in the glory of the RAMONES who made this show possible. - Hey Ho Lets Go -
Thanks for coming,
Frank M. Jackowiak - Photographer - itpphoto.com

Click Me!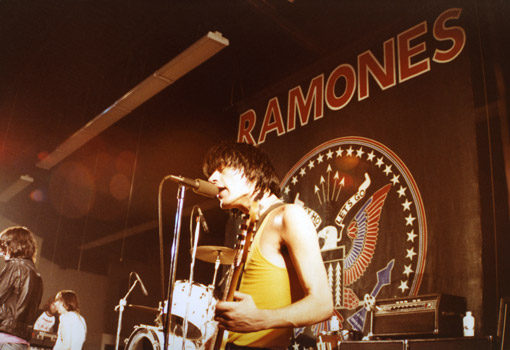 Copyright 2021, Frank Jackowiak, All Rights Reserved.